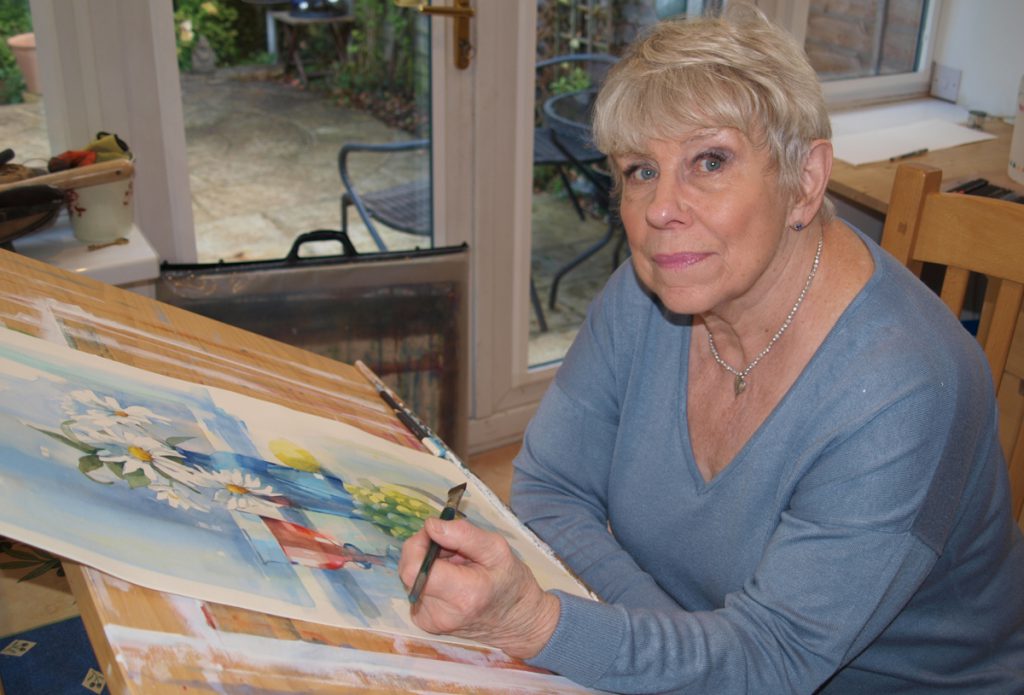 Born into an artistic and theatrical family in 1943, Liz has been painting and drawing all her life. She spent an unconventional childhood living in St. James's Palace, where her father was a member of the Royal Household. After studying art to A level at school, she worked for four years at the Natural History Museum as a scientific assistant. This was followed by several years of part time study at various colleges and with a number of eminent artists including Edward Wesson.
After qualifying as an Adult Education tutor in 1979 Liz followed a successful career teaching weekly classes in drawing, watercolours, and mixed media for Surrey, Berkshire and Hampshire County Councils from which she retired in 2003. Alongside this she demonstrated to Art Societies throughout the country and taught on many painting holidays, finally retiring completely at the end of 2021. She has also contributed to several books including 'The Artists' Sketchbook', 'Watercolour Plus' and 'Dynamic Acrylics'. She is also a regular contributor to 'The Artist' magazine. In addition, Liz has in-depth knowledge of artists' materials and has demonstrated for most of the major manufacturers.
During a career spanning over 40 years Liz has taken part in numerous exhibitions, both solo and with other artists, in galleries and other venues throughout the country. As a result her work is held in private and public collections (Surrey Heath Museum, Chertsey Museum) at home and worldwide. In London, she has exhibited regularly at Mall Galleries with the Royal Institute of Painters in Watercolour, The Pastel Society, and The Society of Women Artists to which she gained elected membership in 1993, retiring in 2022. An active and committed member of a number of Art Societies, she his currently president of Frimley and Camberley Society of Arts. She has a widespread reputation for still life, floral, and landscape paintings (many of which have been regularly reproduced as greetings cards and prints by major companies) and has won a number of prestigious awards at local and national level, including St. Cuthbert's Mill Award at Mall Galleries in 2017. Her main inspirations are light, colour, and the heathland landscape around her home.